You fill your phones with endless photos of your kids yet feature in next to none of them.
You love the idea of a gorgeous family portrait to hang on the wall but the thought of actually having to get in front of the camera fills you with dread.
I want to change that!
I prefer to photograph families outdoors for a few reasons:
Once kids can move, they want to! And trying to get a 2yr old to stay in one spot for more than a millisecond takes some serious ninja skills! Which is why I wont expect your kids to stand still, instead I let your kids run around and explore, and run around like a mad woman to capture them being themselves.
Children can easily become overwhelmed, shy or intimidated in a formal studio setting particularly when introduced to a stranger who expects them to sit or stand still and smile on command. Outdoors is so much more informal and relaxed for kids and their grown ups.
Variety is the spice of life! You probably don't want endless images of your family all looking the same, posing on a plain background looking and feeling awkward. Outdoor locations provide a gorgeous mix of backdrops without the need for formal posing or forced smiles.
So what can you expect?
I wont ask your children to smile and I wont expect them to stand still!
Instead I will be silly, tell stories and amuse them with my endless repertoire of silly noises and bad dad jokes so we can capture genuine, natural smiles.
Your family photoshoot will feel more like a walk with friends than a photoshoot with plenty of fun, giggles and maybe even some bum wiggling!
If you're not sure what to wear for your shoot why not check out my style guide?
If you want an outdoor family shoot but you're not sure on where, I have a handy guide to locations.
We had a family photo shoot (2 grandparents, 4 parents and 2 children aged 1 and 2) with Rachael at Cammo Estate and we are absolutely thrilled with our photos! I was really nervous about the photo shoot before hand as I don't particularly like getting my photo taken and having a very active 2 year old I wondered how it would all work! I'm delighted to say that after meeting Rachael for the first time we all warmed to her straight away and she was fantastic with the children!! She made them laugh and had techniques to get them to look at the camera which worked a treat! Rachael made us feel so relaxed about it all that it was actually a lovely experience and like a nice family day out! Rachael certainly knew where to go to take some beautiful photos in the estate, the backdrop to all of our photos is stunning! I wouldn't hesitate to recommend Rachael to others who are considering a family photo shoot, you will be surprised at how relaxed she makes it for you! Thanks Rachael for our beautiful photos, we will treasure them! 
PRICING
A £85 booking fee is required in order to secure your booking. You do not need to choose your collection in advance. You will view your carefully hand edited images around 1-2 weeks after your family photoshoot.
OUR COLLECTIONS
Digital and print packages ideal for sharing with family.
COLLECTION 1
£649
*  1 hour session
*  Face to face photo viewing in the studio
*  Full gallery of 20+ high resolution digital images, fully edited in your private online gallery
*  High Resolution HD slide show with your favourite images
*  Three mounted 8″ x 6″ fine art prints of your chosen images
*  Personalised mobile phone app
*  Your choice of location within Edinburgh
*  £100 credit towards any wall art purchase
*  £50 off your next session
COLLECTION 2
£549
*  1 hour session
*  Face to face photo viewing in the studio
*  Ten high resolution, fully edited digital images via download
*  High Resolution HD slide show with your favourite images
*  Ten 7″ x5 ″ photo prints matching of your chosen digital images
*  Your choice of location within Edinburgh
COLLECTION 3
£449
*  1 hour session
*  Face to face photo viewing in the studio
*  Five high resolution, fully edited digital images via dowload
*  Five 7″ x 5″ photo prints of your chosen digital images
*  Your choice of location within Edinburgh
A range of professional print products are also available to order. Custom sizing available.  
If you have a specific space you would like to display your images in we will work together to find the perfect piece for your home.
BEFORE YOUR SESSION
We'll have a chat about what you want from your shoot and I can help guide you in picking outfits and discuss options for the shoot.
DURING YOUR SESSION
We'll keep things fun and relaxed and make sure we capture some beautiful timeless images of you and your family.
AFTER YOUR SESSION
We will schedule your viewing & ordering appointment to take place around a week after your photoshoot.
All of your images will be expe1tly retouched for viewing and displayed in a slideshow.
We will work together to create the perfect package to suit your home and budget.
Your digital images will be ready to take home on the day.
Printed products will be shipped directly to your home or if you prefer we can have them delivered to the studio for you to collect at your convenience.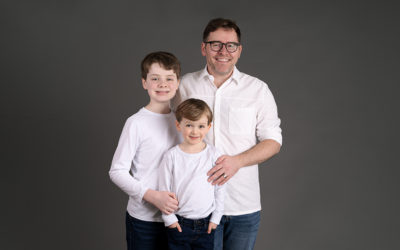 Family portraits for the reluctant Dad - 5 things you need to know It's March 2021, we have been in lockdown again since Christmas. Nobody has had their hair cut by a professional in months. None of our clothes quite fit right. Both boys have stretched and...
read more
Please complete all sections so that I can provide you with an accurate reply.
3 Gorgie Park Road
Edinburgh
EH14 1NL
07843 912692