Gould Family Photoshoot at Lauriston Castle, Edinburgh
Its sad that many families of children with additional support needs think a professional photoshoot isn't for them. Some families have expressed worry that a photographer may act differently towards their child or not understand how best to interact with them. With my background in both education and social care I have worked with children from almost every background you can imagine and with a wide range of additional support needs and health conditions.
My approach with all families is exactly the same – tell me about your child, anything I need to know before we get started. I never assume that I know how a child will react to me or the experience as every child is different and can react differently on any given day for a whole host of reasons! Wheelchairs don't phase me, I just need to know in advance so we can plan an appropriate location – sand and wheelchairs don't mix well! As a volunteer photographer for The Butterfly Wishes Network I have worked with families whose children have a range of life limiting conditions and as such often need specific care apparatus which is never a problem. If your child cannot stand we adapt the session to focus on their abilities not the things they cannot do.
When Lesley booked me to photograph her beautiful family I was aware that her eldest daughter had additional needs but having never met her before I had no idea of how she would react to me. So I did what I always do and treated both girls the same and chatted away telling them my now infamous story of Norman the naughty pheasant! Being autumn there were plenty of leaves to enjoy kicking, throwing and exploring which both Hannah and Esme enjoyed!
I generally find that with all families its the mum and dad who are the most nervous about having their photos taken so it was lovely to see the whole family interacting naturally and enjoying themselves while I took advantage of the best light and angles. And as I told Lesley, in years to come when your children look back at these photos they wont care a jot if your hair isn't immaculate or your outfits aren't perfectly coordinating. All they will see is love. Theirs and yours. And thats more beautiful than anything a stylist can conjure up!
Scroll down for more images from the photoshoot and to hear from Lesley herself and her experience of the photoshoot.
Now over to Lesley to tell you all about her experience of a family photoshoot with Beautiful Bairns!
My family had an autumn shoot done by Rachael from Beautiful Bairns at Lauriston Castle in Edinburgh. It was such a fantastic experience from start to finish.
I was super nervous about the idea of the shoot beforehand as I kept thinking there were so many variables that could go wrong: the wrong weather, the wrong clothes, the wrong moods of our children etc! However, Rachael reassured me throughout the whole process. She advised me of colours for us to wear to which would look good against the Autumn background and I did not feel at all silly or vain for asking her about this. I think she understood that I was anxious and she was completely professional and reassuring about answering any questions I had.
Rachael put us all at ease when we arrived for the shoot on the day. I had forgotten our elder daughter's cardigan and was anxious that she wouldn't 'look' right in the photos but again Rachael just took all of this in her stride and helped me to relax. The e-mail Rachael had sent prior to the shoot was also really helpful – tips on where to park etc.
As for the actual shoot, it was simply a lovely and joyful experience for us all. Rachael relaxed my husband and I and our girls, she was playful and fun with them and we all just had fun. Our elder daughter who is 6 has additional needs and Rachael was excellent with her. I was worried that she wouldn't stay still long enough for a photo to be taken but Rachael had great strategies for dealing with this, and it was so simple! E.g. asking her to sit down with her sister instead of standing up! Ingenious! A tip I will be using at home much more often from now on! The girls both responded to Rachael so positively.
Finally, the end result. When we saw the photographs, my husband and I were both over the moon. They are beautiful, fun, classic and just perfect. They encapsulate our family perfectly. The Autumn colours are incredible. I cant wait to get them framed and put up on our walls! The biggest problem we will have will be deciding which ones to have! Thank you Rachael for such an incredible experience. We will definitely be back for more!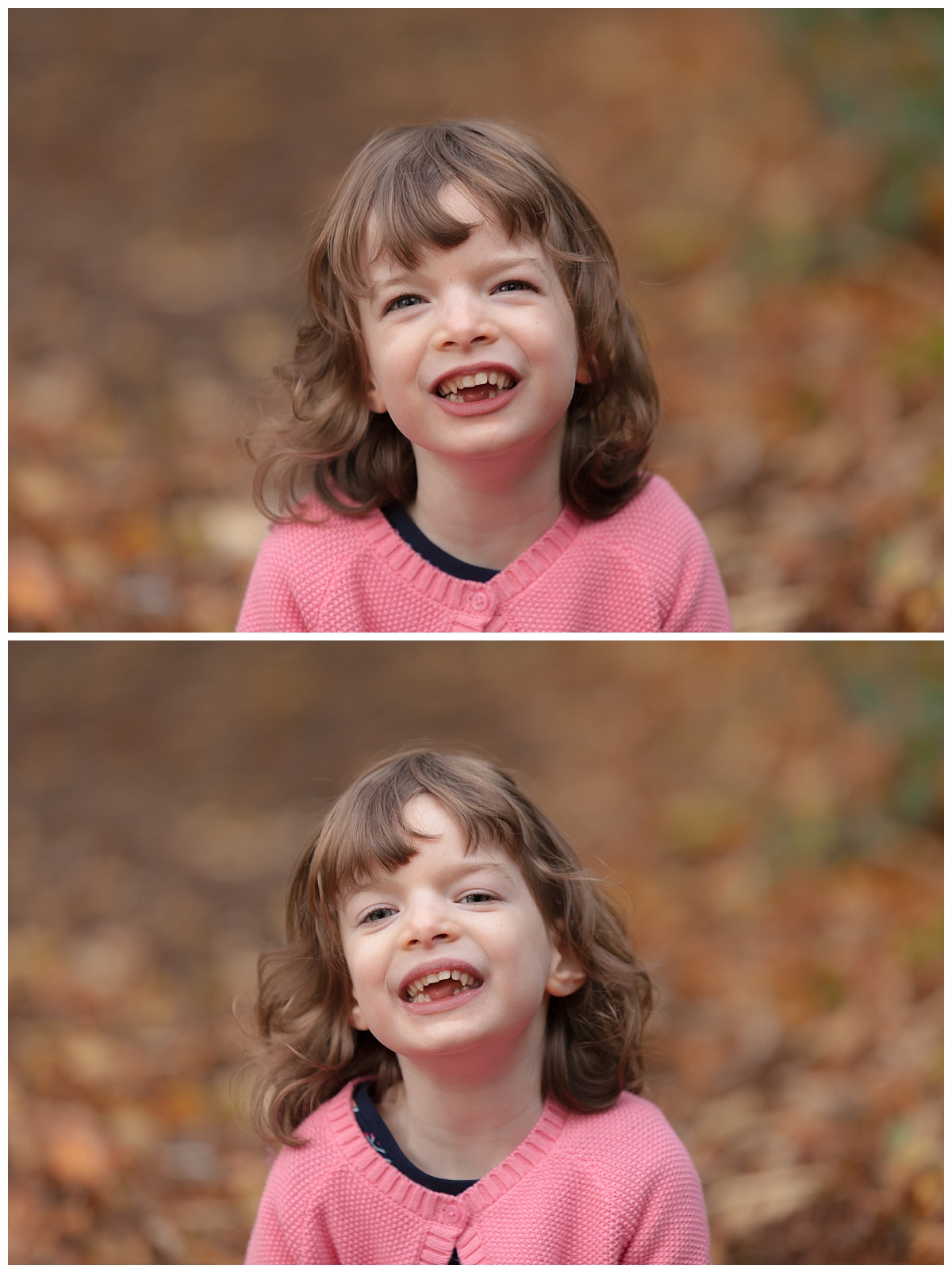 To find out more about my family photoshoots and hear more about how I work with families to create beautiful, relaxed family photos please visit the family page of my website. To book your family photoshoot simply fill out the contact form below!