In my nine years as a Mummy I've hosted a whole host of different birthdays some "proper" parties, some more informal gatherings at home with family and friends. Have I enjoyed any of them? Um….. not a lot! I find being the hostess really quite stressful and it honestly doesn't come easily to me! As much as I love a party, I really hate being the one who is solely responsible for everything. Us working parents have SO much to juggle and think about already so adding in party planning can be too much!
So this year for our littlest Lynch's 1st Birthday we ducked out, dodged the birthday bullet and decided to hand the reins to an expert. And boy was it worth it!
Let me give you a little context…. Our house is lovely and we love it but it wasn't designed for entertaining. Our lounge simply isn't big enough for a dozen one year olds plus parents (short of removing all furniture and asking everyone to sit on the floor and not move, which doesn't sound much fun to me!) so a wee party at home became a game of social roulette. Who to invite? Who to NOT invite? How to decide when the vast majority of ollie's wee pals are all in the same group! I didn't want to exclude anyone and with his birthday being in October the garden wasn't an option so there was no way we could do it at home.
So, where the heck can you take a dozen 1 year olds in Edinburgh where they wont wreck the joint, get squished or be plain miserable from boredom?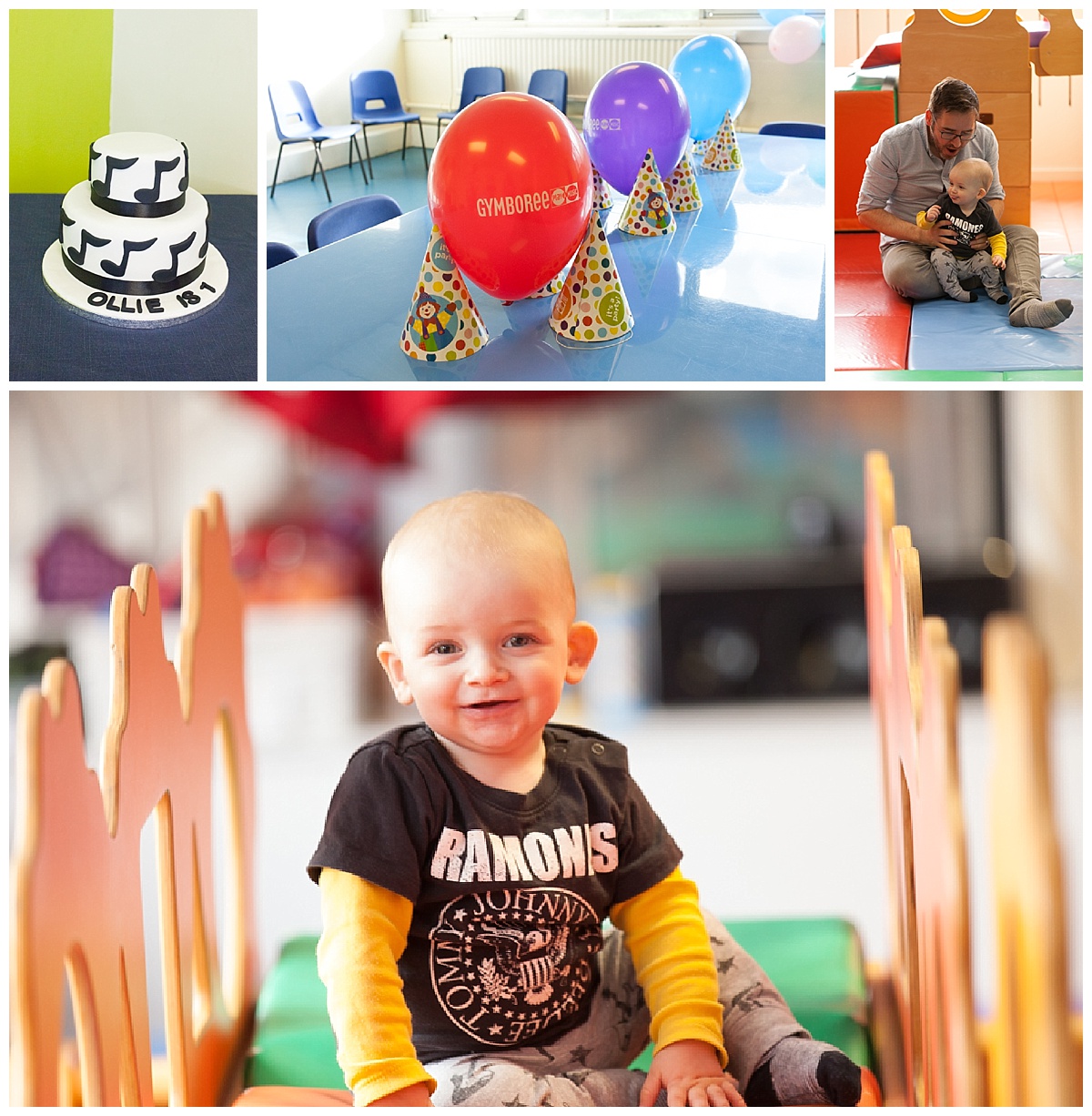 Simple! Gymboree!!!!!! It is our happy place, ollie adores it, loves the girls who work there and feels comfortable there as he goes twice a week. And guess what? THEY DO PARTIES!!!  Not only that they do magic stress free they've-already-thought-of-everything parties! As soon as you book you are given invites to hand out all you need to do is fill in the details so we were off to a good start (until I forgot about them and mostly invited everyone in person or via Facebook, oops)
Nicole then went through catering options with me – she can cater for allergies and you can also opt to provide your own food if you prefer. We did a bit of both and brought a few extra goodies for the grown ups but left the kids in her safe hands. We ordered his gorgeous and mega tasty cake from the super talented and lovely Tamarin of Tam's Tasty Treats and everyone raved about how gorgeous it was. Other than Ollie and his big brother the cake was the only thing we needed to turn up with, everything else was taken care of.
As those of you who have been to the magical place that is gymboree will already know its a toddler paradise. Stuff to crawl under and through, climb up and over, slide down, you name it! We did party games, singing, wobbling, bubbles and plenty of exploring before we had a break for cake and party food (typically my favourite bit, Im a little bit obsessed with party food as my current freezer contents will prove).
The party room was decorated and ready with birthday hats, balloons and plenty of space for everyone. Proper kids seats at the tables as well as high chairs are available so they suit a big age range too which was also important to us with his 9 year old big brother and 8 year old big cousin both in attendance.
When I say Nicole thinks of everything she literally does. Just as we were finishing up with food I was just about to ask my husband to grab the changing bag so I could get wet wipes to clean up the birthday boy and lo and behold Nicole appeared with packs to hand out so everyone could get cleaned up! She even had spare birthday candles in case our cake didn't come with one or we had forgot (miraculously for once we didn't!) she is the birthday fairy!
We all went back into the main gymboree room for plenty more fun and even the grown ups got stuck in and had a blast! As you can see from the photos Ollie had a brilliant day and I couldn't have asked for a better 1st birthday for our beautiful little boy. Nobody was bored, there were no tears, I didn't have to do any cleaning up at all (HUGE bonus I reckon!) or even think about what time it was, it was all taken care of and that meant an extra birthday present for me – I actually got to relax and enjoy it for once. And that to me is priceless!
If you're planning your little one's 1st or 2nd Birthday you might also be interested in a cake smash, please check out my blog on Sam's Cake smash for more information and find how much fun you can expect!
For information on Gymboree birthday parties please visit their website.