For babies age 3-12 months.
Studio based in central Edinburgh.
An older baby session is ideal for babies who are over 3 months of age. At this age your baby has changed enormously from when they were born. Full of smiles, expressions and personality it is a great age to capture!
An older baby photoshoot is the perfect follow up to your newborn session. Or for those who missed the newborn photos now is the perfect time to start documenting your baby's first year.
When baby is 3-4 months of age this will involve plenty of expressions! A mix of full body and close up portraits. And some tummy time too! Once baby can sit up unaided there are even more options! The studio has props and outifts to choose from. And of course you can bring your favorites from home too.  So you can choose the session that best suits your personal style.
We book out a full hour session so you are never rushed.  Usually 30 minutes is plenty to capture a gorgeous selection of photos of your baby. This leaves time for feeds, cuddles and nappy changes as required. 
The studio has a gorgeous collection of outfits and accessories for you to choose from. We will work together to style the session to suit your home and taste.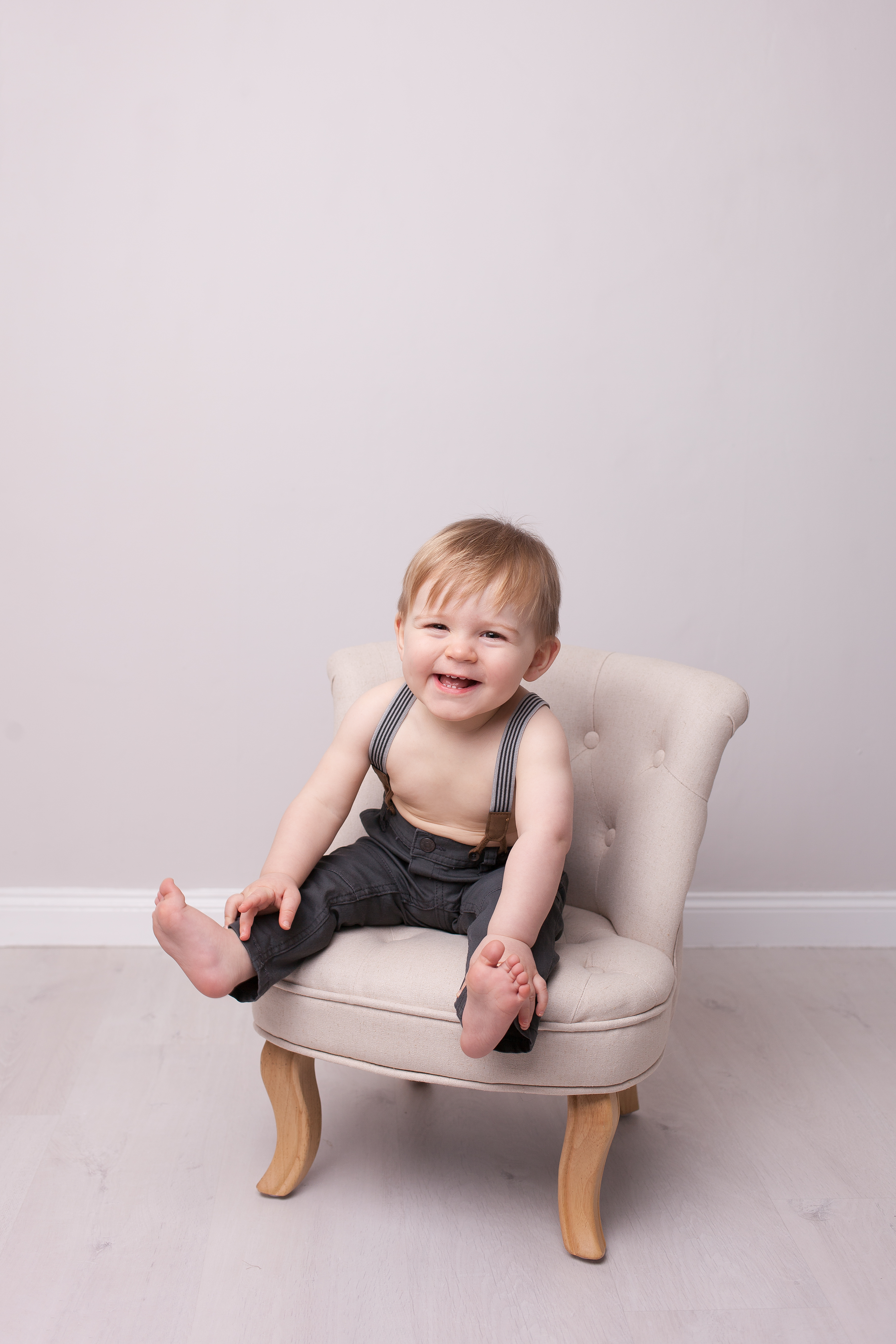 Plenty of time for cuddles, nappy changes and top-up feeds. Let me work my Mary Poppins' magic on your little one to capture their gorgeous giggles and genuine smiles!
"We had a session with Rachael when our little girl was 8 months old. The pictures are absolutely fantastic! Rachael was able to capture our little one in really beautiful but natural pictures. We really enjoyed the session and I would wholeheartedly recommend Rachael to anyone who is looking to get some beautiful natural photographs taken of their baby."
Konica Stones
Rachael is so fantastic to work with. She immediately puts you at ease and is excellent with the little ones. Rachael has been photographing our little girl during her first year and she has caught every aspect of her personality, from the cheeky smiles and giggles to the thoughtful looks. She has a great way at bringing out the best in the little ones and ensuring that parents are comfortable too. Always prepared and professional we are so pleased that we chose Rachael to capture these very special moments in our little girl's life. The photographs will be cherished for years to come.
SESSION FEE
The sitter session fee is £60, payable at the time of booking. This secures your due date in the studio diary. No products or digital files are included.
If you are a returning customer you will receive a 50% discount on your session fee.
DIGITAL COLLECTIONS
Digital only packages ideal for sharing with family.
COLLECTION 1
Your 5 favourite images provided as high resolution print ready files. Supplied via download link.
£300
COLLECTION 2
Your 10 favourite images provided as high resolution
print ready files. Supplied on USB Stick.
£400
COLLECTION 3
Your complete gallery of images (20+) provided as high-resolution print ready files. Supplied on USB stick.
Includes personalised Slideshow set to music.
£500
PACKAGES
Our most popular options featuring a mix of digital images and beautiful hand-crafted products.
PACKAGE 1
Your 5 favourite images as digital files.
10″ x 10″ Framed print of your favourite image.
£450 (save £50)
PACKAGE 2
Your 10 favourite images as digital files on USB.
Your choice of multi-aperture Pastel frame.
5 image mounted print box.
£795 (Save £155)
PACKAGE 3
Full gallery of images on USB stick & personalised slideshow.
Your choice of multi-aperture Pastel frame.
10″ x 10″ single image frame
10 image mounted print box
£1150 (Save £200)
A range of professional print products are also available to order.
BEFORE YOUR SESSION
Babies are unpredictable! So we make things as easy as possible for you.
We only book a limited number of babye sessions each month.
All we need is your due date and your £60 session fee to get you booked into the studio diary.
Once baby arrives you access our calendar and choose the date for your session to take place. Easy!
DURING YOUR SESSION
Baby is Boss in the Beautiful Bairns sh1dio!
Sessions are entirely baby led with plenty of time for feeds, cuddles and clean ups!
We will chat over a cuppa and choose the perfect olour palette for your images so they look beautiful when on display in your home.
Then you can sit back, relax and watch as I get baby relaxed into a deep sleep and perfectly posed.
AFTER YOUR SESSION
We will schedule your viewing & ordering appointment to take place around a week after your photoshoot.
All of your images will be expe1tly retouched for viewing and displayed in a slideshow.
We will work together to create the perfect package to suit your home and budget.
Your digital images will be ready to take home on the day.
Printed products will be shipped directly to your home or if you prefer we can have them delivered to the studio for you to collect at your convenience.
WHAT SHOULD BABY WEAR?
At the studio I have a huge selection of beautiful fabrics, hats, headbands, wraps and props.
For most images baby will be naked so there is no need to bring any clothing. If you prefer for baby to be covered we can do so using beautiful fabrics.
This way you can still see how small and delicate baby is without being swamped by baggy clothing.
Please complete all sections so that I can provide you with an accurate reply.
I am super excited to share this very exciting news! John Lewis is launching a new event for expectant parents in their Edinburgh store. A relaxed, informal event taking place in the nursery department. It is your opportunity to come along, browse and "ask...
read more
3 Gorgie Park Road
Edinburgh
EH14 1NL
07843 912692