For babies age 3-12 months.
Studio based in central Edinburgh.
An older baby session is ideal for babies who are over 3 months of age. At this age your baby has changed enormously from when they were born. Full of smiles, expressions and personality it is a great age to capture!
An older baby photoshoot is the perfect follow up to your newborn session. Or for those who missed the newborn photos now is the perfect time to start documenting your baby's first year.
When baby is 3-4 months of age this will involve plenty of expressions! A mix of full body and close up portraits. And some tummy time too! Once baby can sit up unaided there are even more options! The studio has props and outifts to choose from. And of course you can bring your favorites from home too.  So you can choose the session that best suits your personal style.
We book out a full hour session so you are never rushed.  Usually 30 minutes is plenty to capture a gorgeous selection of photos of your baby. This leaves time for feeds, cuddles and nappy changes as required. 
The studio has a gorgeous collection of outfits and accessories for you to choose from. We will work together to style the session to suit your home and taste.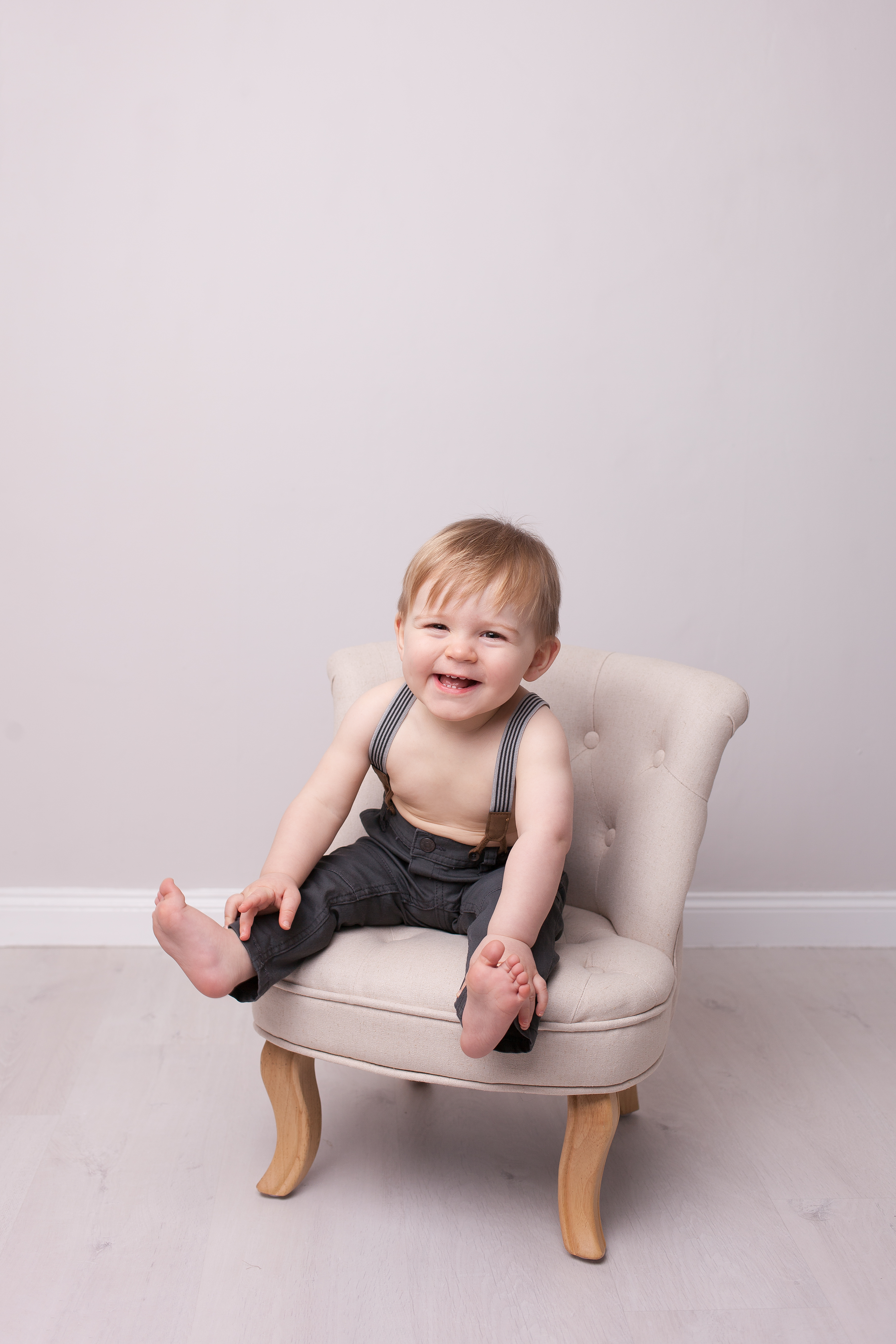 Plenty of time for cuddles, nappy changes and top-up feeds. Let me work my Mary Poppins' magic on your little one to capture their gorgeous giggles and genuine smiles!
"We had a session with Rachael when our little girl was 8 months old. The pictures are absolutely fantastic! Rachael was able to capture our little one in really beautiful but natural pictures. We really enjoyed the session and I would wholeheartedly recommend Rachael to anyone who is looking to get some beautiful natural photographs taken of their baby."
Konica Stones
Rachael is so fantastic to work with. She immediately puts you at ease and is excellent with the little ones. Rachael has been photographing our little girl during her first year and she has caught every aspect of her personality, from the cheeky smiles and giggles to the thoughtful looks. She has a great way at bringing out the best in the little ones and ensuring that parents are comfortable too. Always prepared and professional we are so pleased that we chose Rachael to capture these very special moments in our little girl's life. The photographs will be cherished for years to come.
Please complete all sections so that I can provide you with an accurate reply.
Woo! The clocks are going back. That means an EXTRA HOUR in bed! Unless of course like me you are a parent of a small child, then it typically doesn't. In fact it probably means you'll be bleary eyed, staggering about in the dark at daft o'clock wondering what time it...
read more
3 Gorgie Park Road
Edinburgh
EH14 1NL
07843 912692