Cake Smash Photos Edinburgh
Cake smash photos have to be one of the cutest way to document your child's first birthday! A cake smash photoshoot with Beautiful Bairns is fun for you and your little one.
We will custom design your cake smash to your chosen theme so the options are endless! Cake smash photos are the main event and your little one can get cleaned up in a bubble bath in our gorgeous roll top bath afterwards so they are all clean for heading home!
Cake AND a bubble bath? I mean it doesn't get much better than that does it?!
Your 1st Birthday Cake Smash Photoshoot
Your cake smash will be styled to suit your child and taste.  I have a wide range of sets, props and outfits for you to use. I have an amazing local baker who will design your custom cake to match the theme. She can also cater for gluten free little ones. If your child has any additional allergies please get in touch and we can work out what is best.
For those of you who hate mess, don't panic! Cake smashes don't have to involve a huge cake and loads of icing. A simple cupcake can also make for beautiful and fun photos and a less messy experience! Or why not plan a fruit smash? A healthy and fun option with plenty of colour! Either way you can relax knowing that I will clear up all the mess regardless!
Does it matter if baby has never had cake before?
Not at all! We will capture gorgeous portraits of your little one exploring and experimenting with the cake as well as eating it. For some babies this is a sensory activity rather than snack time! Some babies love to smear the icing on themselves, some stick their faces right in others are more tentative. But however your baby chooses to play with the cake you can be sure we will capture super sweet portraits of them!
Can you provide a custom cake?
We sure can! Your custom cake is included and made to order. It will be delivered to the studio so you don't even need to worry about transporting it. Cobbled streets, speed bumps and cakes can be a stressful combination so we take all of that off your hands!
Can you cater for allergies?
Yes indeed. My wonderful baker Justyna from Just So Sweet can offer a variety of options to cater for allergies.
How do we clean up baby afterwards?
A quick wipe down with wipes followed by the ultimate in luxury – a daytime bath in my gorgeous mini rolltop bath! The perfect size for babies, it's perfect for more adorable images to be created while your little birthday VIP enjoys the bubbles and splashing!
Do you have cake free options?
Yes we do, if you prefer to avoid sweet treats we can do a fruit smash instead which is just as cute and fun!
Can we do a milk bath instead of a bubble bath?
Absolutely! Just bring along some flowers and I will add a splash of Oilatum to the bath water for the milky look!
Our photos are amazing! Rachael is so warm, welcoming and the photoshoot was so relaxed. She was very patient with our baby, even when he needed to be fed. We will be back to see Rachael again in the near future!
Lindsay Kinsman
We loved every second of our photo shoot with Rachael. She was very friendly and welcomed us in to her studio making sure we were comfortable throughout the time we were there.
Rachael handled our little boy (10 days old) gently and with a lot of care ensuring he was settled throughout the whole 3 hours we were there, his comfort was her priority and it put us at ease knowing he was in safe hands when being handled.
Thank you so much, we love every one of the photos! Would highly recommend to anyone
Carys Hunter
Unlike most photographers I do not charge a session fee. Instead you pay £99 to book your session and this is deducted from your chosen collection.
No need to choose a collection until you return to the studio to view your gallery of images. All images will be carefully hand edited to perfection!
Digital and print packages ideal for sharing with family.
 1 hour session
Face to face photo viewing
Full gallery of 20+ high resolution digital images
High Resolution HD slide show with your favourite images
Three mounted 8″ x 6″ fine art prints of your favourite images
Custom set design & full use of props
Personalised mobile phone app
Custom cake
£100 credit towards any wall art purchase
£50 off your next session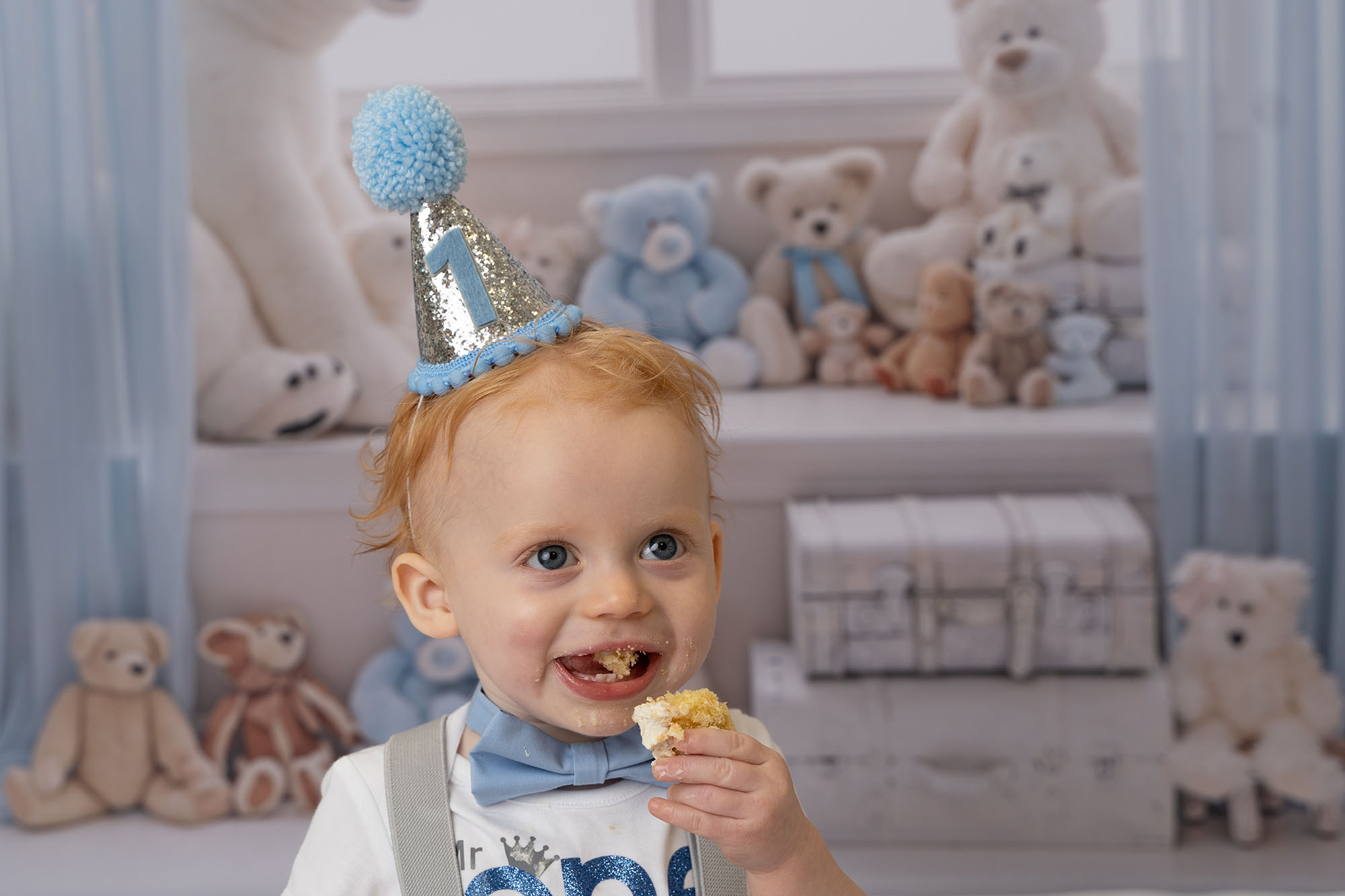 1 hour session
Face to face photo viewing
Ten high resolution, fully edited photos
High Resolution HD slide show with your favourite images
Matching 7″ x 5″ photo prints of your chosen digital images
Custom set design & full use of props
Personalised mobile phone app
Custom cake
 1 hour session
Face to face photo viewing
Five high resolution, fully edited digital images
Matching 7″ x 5″ photo prints of your chosen digital images
Custom set design & full use of props
Personalised mobile phone app
Custom cake
A range of professional print products are available to order. Custom sizing available.
If you have a specific space you would like to display your images in we will work together to find the perfect piece for your home. I have invested in specialist software that allows you to view your images on your own walls so that you can be confident in choosing the best size and style frames for your home.
How to book?
Most people have never booked a photoshoot before so I am often asked how the process works
Book a call
I will call you & answer any questions you have about a cake smash
Choose your date
From my online calendar
Come to the studio
And enjoy your session
Return to the studio
To view your edited gallery of images
Want to chat?
Get in touch to book your no obligation consultation call
If you'd like to arrange a chat 
Please let me know when would be best for me to give you a call. I can answer any questions you have and you can find out if I am the right photographer for you.