St Johns hospital birth story
The dream vs the reality – the arrival of our second son.
In real life it's not like the movies or on TV shows. It's usually less dramatic, more disgusting and messy and FAR less glamorous. Pregnancy is one thing but giving birth? That's a whole other messy ball game!
I won't lie, the birth of our first son Lewis was not pretty or pleasant. My waters broke on Saturday night and he was eventually born after much stop starting on Tuesday morning, August 19th 2008. The day I became a Mummy and realised how enormous an amount of love my heart could hold for tiny screaming little bundle. A friend asked me to describe how it felt, I told her the truth, I felt like I was being ripped in half! I didn't enjoy my labour or his birth and due to the diamorphine my memory of it all is quite hazy. It was only when chatting to our current midwife that I found out that lewis was taken away to have oxygen after he was delivered. My memory was that he was just on the other side of the room but actually he was away for a few minutes that for my husband Thomas felt like an eternity. I hate that I can't remember all of it and that was a bit part of my birth plan this time around.
And so began my dreaming of how this pregnancy and birth would be different. My dreams involved attending various pregnancy classes including a birth prep class, yoga, maybe something else local that would allow me to meet other mums to be who lived in the same part of Edinburgh as me.
There are a tonne of pregnancy classes available these days, very different to eight years ago when it was pretty much NHS or NCT ante natal classes only. In the last five years  I have met and networked with many people who run such classes and lots sound fantastic. Unfortunately running a busy business, having a husband and 8 year old son and moving house meant that time ran out and i didn't make it to any! My dream of attending lots of classes and meeting loads of new mum to be friends was slowly fading but then our NHS class invite arrived! We met some lovely people in the class and look forward to meeting all the babies soon when we have our class "reunion".
The one thing that I did manage to organise was without a doubt the right choice for me. I had heard lots of good things about hypnobirthing over the years and in fact it was my husband who really convinced me we should give it a try. As part of his job running Dads Rock he also runs ante natal classes for Dads alongside NHS midwives. All of the midwives had great things to say about it and said they could always tell if a lady had done the classes as she had a better experience and found it easier to cope with the labour. Sounded good to me so I thought it was worth checking out!
I met Tessa Cooke through a networking event for baby related businesses in Edinburgh and immediately felt a "click". You know when you just meet someone and they are your sort of people? That's how I felt about Tessa. She isn't airy fairy hippy dippy, she is straight up, clear and concise and exactly what I wanted and needed! I invited her to the studio for a cuppa and blether (and boy did we, I think our tea ran cold at least twice!) and she told me more about how she works and what her classes involve. Tessa offers both group and private classes and for various reasons I decided that a group class wasn't best suited to me so we decided to book her to come to us privately. Tessa visited our home three times in the run up to my due date and I did lots of practice each week between sessions. I found them really relaxing and a lovely way to focus on my baby and what was going to happen to my body and my family. There is a lot of science behind hypnobirthing and how and why it works, I won't bore you with it (and I'd probably get it wrong!) but suffice to say I am now a HUGE convert and will be shouting about it for years to come! It was by far the best money we spent in preparing for the birth of our baby and made an enormous difference to the experience we had with Ollie being born. But more on that later….
So my daydreaming continued and moved to thinking about the birth and the logistics of how juggling giving birth with having an eight year old who is at school. Being ever practical I hoped that the baby would arrive a little early so Lewis would be at school as normal before the October school holidays began. That way he wouldn't be fed up of all the visitors, midwife appointments and the general chaos of that first week and could look forward to coming home every day to see his little brother!
My due date was 17th of October. Babies NEVER arrive on their due dates, well not never but incredibly rarely. In 5 years of photographing newborns and babies I've only had one who arrived on their due date. One of hundreds! My dream of my baby arriving early hadn't come true and I was so glad as our eldest by this point had been ill for ten days with severe diarrhoea and vomiting. It was grim and endless and I was so glad we didn't also have a newborn to worry about. The washing machine was on constantly and I mentally thanked the previous owners of our new house for leaving their tumble dryer behind! During those ten days we spoke to the duty GP on call twice, NHS 24 once and also had a trip to A&E at St Johns. Everyone was convinced it was just a nasty D&V bug that would pass. Lewis wasn't great by a long shot but when asked and examined his pain was generalised not localised so other possibilities were ruled out. We were told that as he had stopped being sick the day before we went to A&E this was a sign he was pas the worst of it. But he wasn't. Things got worse, he started to vomit again and his temperature shot up so I took him to the sick kids.
Thats when reality punched me in the face.
Our son didn't have a nasty bug, his appendix had ruptured and he was septic and needed emergency surgery. The consultant Mr Lam came to see us to explain everything and an hour later our beautiful little boy was being put under general anaesthetic and then whisked off for surgery. Watching him go under almost broke me and it was the first time I let myself cry. The next few hours felt like an eternity and I don't think a minute has ever dragged on for so long. But when he came out and I saw him it was a million times worse. he had tubes everywhere, a drain, IV morphine, and looked so tiny and helpless. Not like my big eight year old sassy pants boy full of life. My heart broke all over again seeing him like that and the next nine days when he was on ward 3 of the Sick Kids were long trying days with lots of pain, tears, frustation and exhaustion.
I don't want share photos of Lewis looking poorly so this is one from the first time he made it to the playroom and managed to eat for the first time in days which was a HUGE milestone at the time! To see him smile again was such a blessing.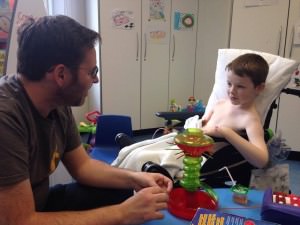 I kept asking bump to please stay put until his big brother was better and thankfully he did. Four days after Lewis's surgery as we were sitting by his bed playing a board game I went into labour. I laboured on the ward for a couple of hours using my breathing exercises to stay relaxed and carried on chatting with Lewis along with pacing the ward and rocking behind the big visitors chair much to the amusement (and slight alarm/concern!) of the ward staff!
By half seven I was too uncomfortable to stay so we said goodnight to Lewis and told him we were heading to the other hospital to hopefully have his little brother. The car journey wasn't the most comfortable or enjoyable I must admit! Having moved around though contractions being suck in the car made me feel a bit like a caged animal. Which made my music choice even more apt – Biffy Clyro's Ellipsis album played in the car and then in the birthing suite and there is a track called Howl which felt specifically appropriate!!
When we arrived at the labour ward we were met by a lovely lady called Emma Walker who we had actually met around a month previously. I lost a baby in 2015 and had a very traumatic miscarriage so was supported by SANDS Lothians through this pregnancy in various ways. One amazing thing they did was to put me in touch with St Johns and arrange for us to be shown around and have the chance to chat with a midwife about any fears or anxieties we had about this pregnancy and birth. As my last loss happened at ERI I was keen to have different surroundings and it really put my mind at ease to know what the suites looked like and how different they were to where I had been previously. We had the opportunity to talk through our preferences for birthing, pain relief, cord clamping etc and this all helped enormously. That it was Emma who would help us deliver our baby boy was a wonderful stroke of luck as she already knew our situation and she was exactly what I needed on the night. She ran us through everything, filled the birthing pool and then more or less let me get on with things on my own (in the best possible way as this was what I wanted!) I felt safe knowing she was there if I needed anything but also loved that she left us to ourselves for the most part while guiding me when needed. A little over an hour and a half after we arrived she helped me to guide our beautiful boy out into the world and he showed us his very own Howl!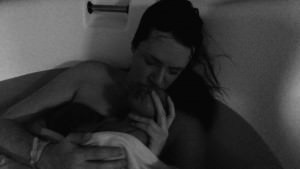 Ollie's birth couldn't have been more different to his big brothers. Both arrived safe and healthy which is what truly matters but I definitely enjoyed my experience a lot more second time around. I know that a lot of this was down to the breathing and relaxation exercises I learned and practiced with Tessa and after our classes. I loved the sessions we had with her and would recommend them to anyone having a baby.
Once again our amazing NHS really stepped up to make what was a scary and anxious time so much easier for us and Emma was brilliant both times we met her. The facilities at St Johns are fantastic, we had plenty of alone time after Ollie was born so just the 3 of us could hang out and relax before we were over up to the ward. There was plenty of support available if I needed any help with feeding etc. And Emma makes a damn good pot of tea too!
My Dad was a nurse in the NHS for years before moving into management and having been in hospital a lot as a kid myself I've always had a huge admiration for our amazing NHS staff but being on the other side of it as a parent was an entirely different experience.
As well as Emma Walker at St Johns I would like to specifically thank Jimmy Lam the consultant who operated on Lewis and the amazing staff of ward 3 at the Sick Kids. Kat and Amanda in particular you really made the world of difference to me, a very scared and stressed heavily pregnant mummy who you showed huge kindness to and whose biggest boy you looked after brilliantly. Kat you made me cry when you hugged me before your shift ended and I have tears now thinking about how amazing you all were to Lewis and the rest of our family. Thank you endlessly, it wont ever be forgotten.
It's been a crazy few weeks. Our family is changed forever and we will be forever grateful to all of you.